The first wave of the Social Housing Decarbonisation Fund (SHDF) was due to end in early 2023 but was recently extended by the government, and is still underway. The latest data released last week has revealed that out of the £187 million pot, only around £10 million of the funding has been spent/claimed so far on SHDF Wave 1 measure improvements. 
For SHDF Wave 2, a more substantial £780m of additional funding was announced earlier this month by the government which has been made available to social housing providers in England. This increased level of funding aims to meet the government's Net Zero and fuel poverty objectives. And in particular, reflects the need for scale and urgency in social housing retrofit services. 
With the low delivery on Wave 1, and the recent announcement of Wave 2, it was therefore the perfect time to reflect on what lessons we've learned so far and how we can ensure a smoother journey in the next wave. So on 30th March we hosted a webinar to discuss where the areas of frustration and improvement are.
Read on for the key takeouts of the 'Lessons learned from SHDF Wave 1' webinar.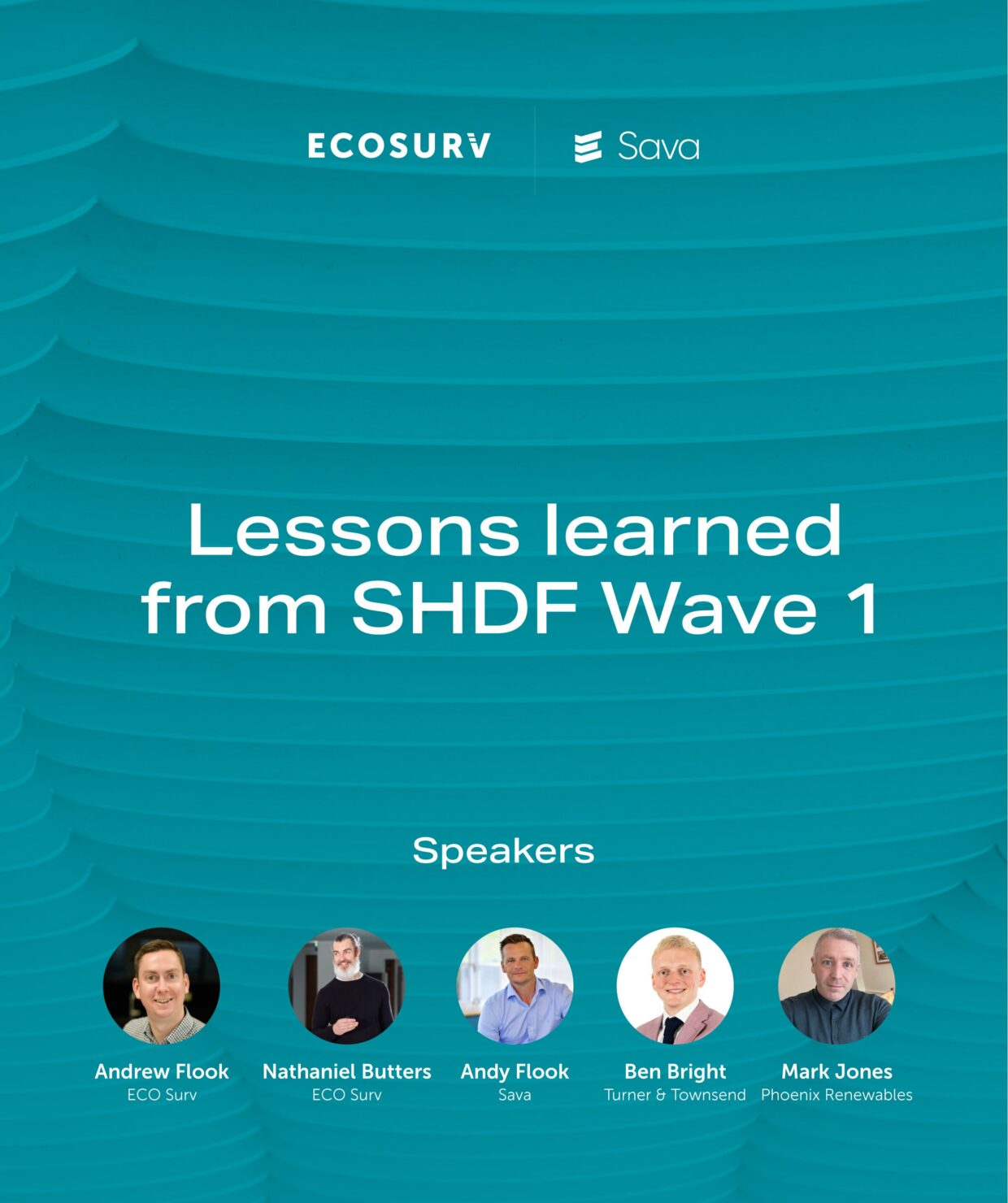 Webinar Panel
At ECO Surv, our end-to-end Retrofit Services mean we are well placed across the retrofit journey to understand common pain points and frustrations. However, to ensure we covered the full scope of what's happened so far in Wave 1, we invited some key players to bring their perspectives across the social housing retrofit space and share their insights into what they've learnt so far.
From understanding the PAS2035 standard and property eligibility to effective tenant engagement – we were joined by three guest speakers to make up the panel:
Key Takeouts
Why has
SHDF Wave 1 been difficult to deliver?
Kicking off the discussion, we asked our panel to pick out one area on why they felt SHDF Wave 1 has been difficult to deliver:
The sector hasn't managed to keep up with the demand as there is a lack of professionals working in the scheme. We need to train individuals within retrofit to be able to deliver the identified jobs and support the overall delivery. – Andy
The Wave 1 application process was a standing start – the preparedness at the beginning of the application process wasn't there. We need to see greater strategic planning and understanding of the PAS process from the start to reduce sticking points later on in the delivery. – Ben
We are trying to run before we walk – more often than not we are over-estimating the number of eligible properties we are working with, which in turn then hinders the delivery later down the line. – Mark
The understanding and implementation of the PAS2035 standard has been a tricky experience for many. It is the standard we have to work to, and we need to make sure we are working as efficiently as possible to keep compliant and keep delivery on track. – Nathaniel
What are the pitfalls in relying on EPC data as a starting point for eligibility?
The starting point for a lot of SHDF projects is the data. And for Wave 1, Andy from Sava identified that at the beginning a lot of providers had the data (EPC data or data in asset management systems) but what they didn't have was information on the validity and tenure of whether the EPC data was up to date to make effective eligibility decisions.
A big learning curve, therefore, is to understand that EPC data is not the only data we should be relying on but to look at all data points that are being captured to build a truer picture of the houses we're identifying – and that a lot of that data will come from visiting homes and undertaking surveys and assessments to glean real-time data.
Wave 1 might have lacked comprehensive data to make accurate eligibility checks, but by gathering and consolidating data through Wave 1 for the last 12 months, we hope that this time around the data should be in a much better position for moving into Wave 2.
What has/hasn't worked in terms of resident engagement?
A core focus of the webinar was around how we need to be doing much more with resident engagement, especially with schemes such as the Social Housing Decarbonisation Fund.
Providing an installer perspective, Mark from Phoenix Renewables said that they're turning up to properties and people are not sure why they are there. It's no longer about just engaging residents on what we're installing for them, we need to be explaining why we are doing it, what the installation process is going to be, and how this will benefit them in the long run.
One suggestion on how we could be providing this information is by engaging residents as early as possible in the process and by even putting on resident engagement days where there is a face-to-face opportunity for installers to meet residents. But then who's responsibility is it to fund this? Should the government be providing specified funding to engage residents? Ben, from Turner and Townsend, added that this engagement piece needs to become part of business as usual and be embedded into the process, so it should be on the client to provide the funding for engagement.
The panel all agree that not only is resident engagement a top priority but that the wider education of the schemes in the UK is necessary too. The Great British Insulation Scheme is one of the latest schemes to be announced by the government, and organisations all need to be playing an active part in educating homeowners and providers about the benefits these schemes have. And even more so, when we're in the middle of a cost-of-living crisis.
What do you think have been the challenges with PAS2035?
From an installation point of view, the industry has been operating under the PAS standard for some time now and Nathaniel, our Founding Director, has been working with the PAS standards for many years.
So when it came to talking about the challenges of working through PAS, and in particular PAS2035 for SHDF, Nathaniel stated that when it first came out there was uncertainty about how can big projects be delivered through this framework, and at speed, even after undergoing the necessary upskilling and training. However, we might have seen a decrease in delivery levels over the past few years as a result of this, but the improved quality of projects delivered and the service levels that these standards provide make it necessary to adhere to.
With the BSI public consultation for the 2023 update currently live – there is hope that we will see the PAS standard evolve for Wave 2 to allow for projects to be more efficient.
Looking forward, what one piece of advice would you give those embarking on SHDF Wave 2?
To leave the webinar audience with advice on how to approach Wave 2, our panel chose one area each:
It's all about effective communication and ensuring engagement with your residents is central to your delivery plan – Mark
Resident engagement  is essential across the whole process and is where we all need to step up – Ben
Resident engagement also, but additionally we need to be communicating internally to our teams and sharing knowledge so everyone is involved and on the same page – Andy
Communication is key, but not only with residents, you should also engage with your retrofit colleagues as soon as you can so you're aligned at the earliest stages and working towards a common goal – Nathaniel
We want to say a big thank you to our guest speakers for joining us on the panel and bringing their insightful perspectives to this topic. And a big thank you also to all our attendees who tuned in!
If you missed the webinar and want to give it a watch, or you are raring to watch it again – click below for the full recording of the webinar.